Hey want to do something really fun this month? Try this! Check out Blue Archipelago's July Book Blowout. Get your own button like mine at her website.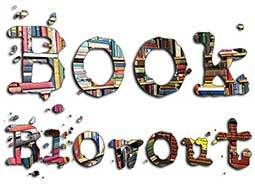 The rules are really simple. Just read as many books as you can between July 1 and 31 and then by August 7 post a list of all of the books you read on your blog. She isn't even requiring reviews to take part! Here's a complete list of the rules:
How do I join in the fun?
1. You can sign up any time between today and July 14!
2. To join you need to post about the Book Blowout on your blog - and set yourself a target number of books you will try to read - go on challenge yourself! (Please note: If you do not have a blog Mrs. S is perfectly happy for you to post your target in her comments - and then the list of books in the wrap-up post in August)
3. Use the Mr Linky here to link to that post so we can all see how many books you're taking on in the Blowout
4. Post a list of the books you managed to read by the deadline of August 7 to complete the challenge
What rules do I need to know?
1. Only books read between July 1 and July 31 count towards the challenge
2. You can include re-reads - as long as they are read within the month of July
3. Books you abandon will only count as half a book
4. If you read to your children you can include all books which have more than 100 pages
5. You can include up to two graphic novels
6. You can include up to two audio books - (if you have a visual impairment that prevents you from reading then you can use just audio books for the challenge)
7. Books you read for other challenges are eligible - use this as an opportunity to catch up!
8. If you start a book before July 1 and then finish it during the month of July then you can count is as half a book
As for the booklady, her target goal is eight books this month. And if that doesn't sound like many, that's true! I wish it were more. But I won't be counting the children's books I read.
Enjoy fellow booklovers!