Little information was gathered by media in the initial interview of the mother. Here we learn that Aliyah, 3, was sick the night before she went missing. This may prove significant. We also learn that the mother searched on her own and ran out of gas.
The mother's statements were sparsely reported, with concern noted (see prior analysis) but due to the lack of reporting of what she said, as well as the editing, more is needed.
It is not known, as of yet, who gave the sad picture of the child; nor why she was, at age 3, missing her front teeth. No medical records (or statements) have yet surfaced though it is not known if this was a medical condition brought on by neglect or natural causes. It is sometimes seen in neglect such as 'bottle rot' where a child is given a bottle for extended periods of time, with high sugars, including soda. There were 5 children in the home; a step father, and the mother was pregnant with twins.
http://seamusoriley.blogspot.com/2011/09/3-year-old-aliyah-lunsford-missing.html
Noted on the video of concern is
1. Is there a missing pronoun? It is difficult to tell if she said "I", or if it was a sound of breathing. A dropped pronoun would indicate the subject removing herself from the action of going "back" into the bedroom to check on the child.
2. Pronoun "her" is used. If this was the only statement, it is concerning that the child's name was not used. However, the video is heavily edited. If the mother referred to her first by name, and then afterwards by pronoun, it is an appropriate use of the pronoun.
Parents who abuse and neglect children go through a process in their minds where they distance themselves from the children, and will sometimes awkwardly avoid using the child's first name. A good example of this is found in Ronald Cummings' statements where he appeared to almost go out of his way to avoid saying "Haleigh" even though others in the conversation were using her name.
3. Body Language at the point where the mother says "we want her home."
We noted the mother's body language in the video as she appeared to be negating her speech. When she says "we want her home" she appears to look away ,and shake her head "no". Please note that we are not body language experts, and only instinctively felt that something was wrong with this statement, including a mother saying "we". The "we" may be appropriate if she is speaking for herself and Aliyah's father; or it may be appropriate if she is speaking for herself and the grandmother, but we noted that often the maternal instincts are so engaged that the "I" is used for emphasis, even when the father is present. The mother praised law enforcement where we often find frustration, fear and anger instead.
It is difficult to do statement analysis if the subject's words are not reported accurately, or in heavily edited video.
It is poor journalism to have an adult before a camera who is the last to see the child and not (either) ask questions of her, or report her responses in the news piece.
In the disappearance of a missing child, those who saw her last must be first scrutinized. Here, the mother is 8 months pregnant with twins, and would not likely be polygraphed, as it is too easy to pick up the alternate heart beats, for example, by the polygrapher.
We also note that the grandmother reported that child (in the present tense) as one who would not go outside alone, nor with strangers. The police are interviewing all the sex offenders in the area to learn of their locations. Video exists that shows the mother in the car, when she reported to the police that she went searching for Alijah.
We also note the time line as a 3 year old sleeping this late. If she only had a cold, would she have slept this long? She is reported to have been asleep and checked at 9AM or 9:30AM, which is a very late sleep for a 3 year old. This is also concerning.
Because we do not have enough sample of mother's statements we cannot make a conclusion, but the small sample we have has raised concerns, along with the known facts and time line:
Sickness reported
Sleeping unusual hour
Heavy child care responsibilities
Possible Neglect of Dental Care
In investigating allegations of abuse and/or neglect of a child, many social workers look at what is called "Risk Factors" in their overall assessment of the situation. Risk Factors are not proof, nor evidence of anything, but are only tools of which are noted which may put a child at risk. Risk Factors include poverty, for example, which can be a stressor for parents. Heavy child care responsibilities can put a child at risk, as a mother is not only 8 months pregnant (with twins) adding to fatigue, but has 5 children, all young, as well. Another risk factor is a sick child. In the small amount of information released to the public, we see several risk factors already. Others include substance abuse, poor support system (Aliyah appears to have a grandmother who loves her), court involvement (stressor), health issues, and so on. Some will even use a check list, to see how many risk factors are present in a home, at any given time. Where many come together, the concern increases. Every home has some risk factor, and anything in life, such as the loss of a job, can contribute to major stress, so it is not to be taken as a conclusion. It is something in which an investigator will ask questions about.
We would like to know if the mother has a criminal history, and information about the step father. Thus far we are told he was at work and has an alibi. We also heard from CNN that the biological father of Alilah has never been informed that he is her parent.
For the original media: Did they interview the step father? Why didn't he appear on camera? Does he have a criminal history? If Alilah was sick, was he a caretaker?
We learned that police have begun the polygraph process, however, and hope to learn more soon.
If any statements are made public, or if the 911 call is released, we will put up analysis.
We continue to pray for 3 year old, Alijah.
K-9s, volunteers, police search in West Virginia for 3-year-old girl
STORY HIGHLIGHTS
Aliayah Lunsford, 3, was last seen by her mother and sister early Saturday, police say
Her mother couldn't find her, running out of gas three hours later as she drove looking
A sheriff's lieutenant says thus far, "we haven't come up with anything"
(CNN) -- K-9 dogs and hundreds of volunteers have joined authorities in West Virginia to look for a missing 3-year-old girl, but a sheriff's department lieutenant said in the two days since she was last seen that "we haven't come up with anything."
Aliayah Lunsford's mother and 9-year-old sister told police they saw the girl around 6 a.m. Saturday in a bedroom in their home in Weston, West Virginia, located between Charleston and Morgantown. The mother said she returned about three hours later to see the girl -- who had been sick the night before -- and take her temperature, but Aliayah wasn't there, Lewis County Sheriff's Lt. David Parks said Monday.
By that time, the girl's stepfather had already been picked up and left for work. The mother got in her car and drove around looking for the child, at one point running out of gas, said Parks. She called police to report Aliayah missing around 11:30 a.m.
A sheriff's deputy arrived within 10 minutes and a larger crew by noon, according to Parks. About 100 volunteers were on scene by the end of the day, alongside local, state and federal law enforcement agents.
The investigation so far has included search teams diving in nearby waters, interviews with relatives and neighbors, and a door-to-door search. That's in addition to searches conducted by volunteers. A bloodhound did detect Aliayah's scent in the vicinity of a nearby river, with a dog handler saying the girl likely had been in the area in the last three to seven days.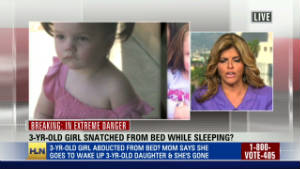 "We are still on it right now," said Parks of the search and investigation.
According to a poster from the National Center for Missing and Exploited Children, Aliayah was last seen in pajama bottoms featuring the TV cartoon character Dora, a pink princess sweatshirt and no shoes. The girl is white, weighs about 35 pounds, stands 3 feet tall and has brown eyes and hair. She has pierced ears and is missing her top four front teeth.
The center characterized Aliayah as "endangered missing." But no Amber Alert has been issued for her, in part because authorities do not have a name or description of a suspect who might have taken her.
Parks said there were no signs of forced entry in the home, which the girl shared with four other children, her stepfather and her mother, who is pregnant with twins. There is a screen door, which does not have a handle, and a regular door, which doesn't shut very well, the lieutenant said.
He added that authorities have checked with "just about every sex offender in the county," getting alibis for them and not having indications that any were near the girl's residence at the time she went missing.
Surveillance video shows the missing girl's mother during her apparent morning search for Aliayah, but there has been no sign yet of the girl. Some people have been interviewed as many as six times, and polygraph tests have been administered, though Parks would not say to whom.
"We are interviewing everybody," he added, noting that no one has been identified even as a "person of interest." "Everybody is a suspect right now."